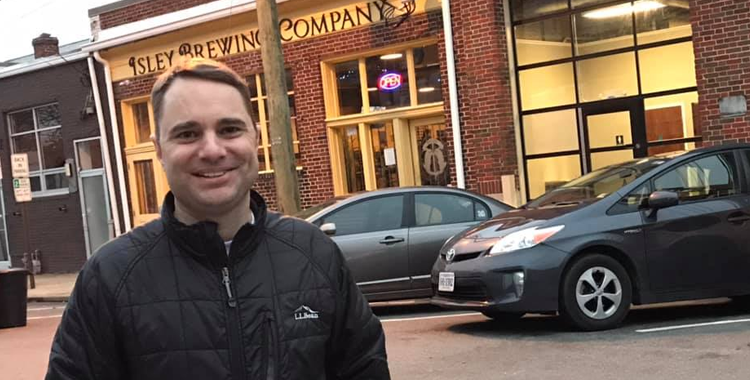 - Dan Ryan -
Dan Ryan, a previous DOH officer, is a prime example of the kind of brewer you want in your club. He's talented, genuine with his feedback, and concerned not only with his own success, but with others.

A day doesn't pass that Dan isn't looking for a regional competition the club can get involved with, and often he's the one to drop off everyone's entries. It also seems like a day can't go buy without Dan posting a selfie at a brewery behind a row of glasses.

Read below to see a bit more about Dan!
---
Please give a brief summary of how you got involved with brewing beer?
About 7 years ago I was getting more and more into craft beer. I probably mentioned to my wife that my dad (who has always been a big DIYer) used to make beer in the kitchen when I was a kid (side note, I still use the same hydrometer and bottle capper that he utilized back in the early 80s), so she bought me a Brooklyn Brew Shop beer making kit for Xmas. It was one of these all-in-one, all-grain, 1 gallon kits where all you really need to supply is the water. I whipped it up on the stove top using the biggest pot I had, a pasta colander for straining, and a little Clorox in water for sanitizer (the kit's directions were unclear). I must have had low expectations because the beer was shit, but I haven't looked back since.
What is your favorite style of beer to brew?
Difficult to say since I get excited to brew anything, but maybe a kettle soured Gose. Those are fun since they add a few new steps to the brewing process and bring in even more of a science experiment aspect to brewing.
What is your favorite style of beer to drink?
Man, I love all styles of beer and I really mean that. The more I've brewed the more I've come to appreciate what it takes to make a great example of every BJCP style of beer. Plus, I just love variety and quickly tire after drinking a few glasses of the same thing.
What is your favorite beer from another club member?
Ha, I did love Ken's Czech Pils, but Ian mentioned that last month. And I'm recalling Ray and Ty's advent calendar Festive Brown Ale, which was fantastic and they still owe me the recipe for. But I really enjoy coming to the meetings and seeing what everybody is cooking up. There's always great beer each month that members are putting out.
If there was any brewery in the world that you would wish to visit, what brewery would it be and why?
I just like going to breweries in general, but maybe Ommegang. I just happen to be into Belgian beers this week.
What is your favorite beer and food pairing?
Tacos and a Tank 7? Well, just Tacos and Beer, I could live on that for the rest of my life.
What is your "desert island beer"? (if you could only drink one beer for the rest of your life, what would it be)
Probably Devil's Backbone Vienna Lager. I hope "the rest of my life" is a long time, and that's just an all-around great anytime beer.
In the kitchen I make a mean ______?
Mud Slide?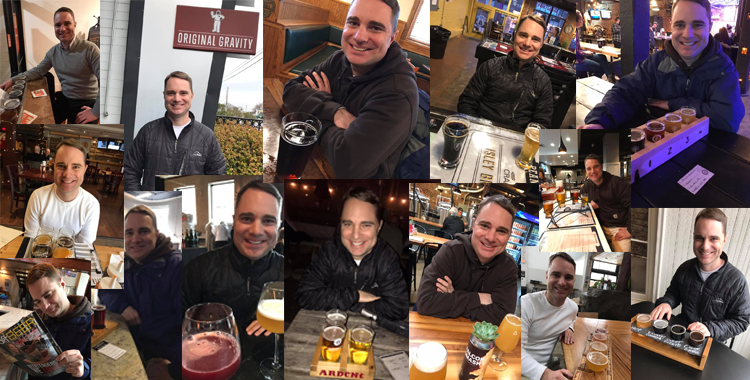 What are some of your hobbies outside of brewing?
Well, I used to be big into golf and running, and plan to get back into them soon, but I have a 5 year old, a 4 year old, and a 5 month old at home that keep me pretty busy. That's another big plus for homebrewing as a hobby, you don't have to leave the house to participate.
What advice would you give to new brewers?
Join a homebrew club (preferably DOH!). Great way to keep up your enthusiasm for the hobby, learn new things, and make some new friends, which is definitely hard to do the older you get.
When did you join DOH?
6.5 years ago? I was still brewing extract and had maybe just advanced past buying the pre-made recipe kits. I think I was only a few meetings behind the actual founding. The club has gone through several phases over the years that can probably tracked against where our meeting's have been held. Some folks have come and gone, but we've had a couple core members that are still going strong. I guess I'm getting to the point where I'm one of those old timers.
How many beer flight selfies do you estimate you have taken in the past 3 years?
Yes, this is kind of my thing. I love seeing posts from other members doing anything beer related, so when I can I post up a pic of myself brewing or drinking beer. Luckily, my wife indulges me on my craft beer obsession and when we have a free night or weekend you can often find us checking out one of the new breweries. I know other members are doing the same thing. I guess they just forget to snap a pic. To answer your question, at least 47.
What are some highlights from your 2018 Brew Season (memories, awards, etc)?
The highlight has to be the Stone AHA Rally and homebrew competition. Every year Stone hosts an AHA rally and homebrew competition where the winner gets to have their beer brewed by Stone for national and international (10 countries) distribution. You've probably seen some of the previous year's winners in the store (Mojay, Neapolitan Dynamite, Xocoveza). Last year's rally was held at the new Richmond location. Jon S. and I entered an American Pale Ale. Dan T. and Ian also entered beers and we all cruised down to Richmond together for the day of the rally. Long story short, Jon and I barely got our beer even pouring because of a clogged dip tube. But we managed to get a growler full to Greg Koch and team for the final judging. We managed to get 2nd place! One place away from putting a DOH beer in practically every super market in the country. Man, that would have been cool. Still, we had a great afternoon, managed to get our taproom beers comp'd, and are in the process of trying to get our beer brewed for a Stone taproom only release.